2019
Runlet
View More
Description
Runlet provides an easy to use interface to manage jobs across a fleet of connected devices, including the capability of triggering remote executions and viewing the logs of running jobs in real-time.
Tags
Electron
React
TypeScript
Blueprint
Gatsby
Bulma
2018
Space Fleet
View More
Description
Space Fleet is a dark syntax Atom theme that pairs up nicely with the One Dark UI theme bundled with Atom.
2016
Mapeaks
View More
Description
Mapeaks helps Shopify store owners understand how their products are being distributed by showing the geolocation of orders on a map.
Tags
AngularJS
Shopify
Mapbox
Material UI
2016
Museek
View More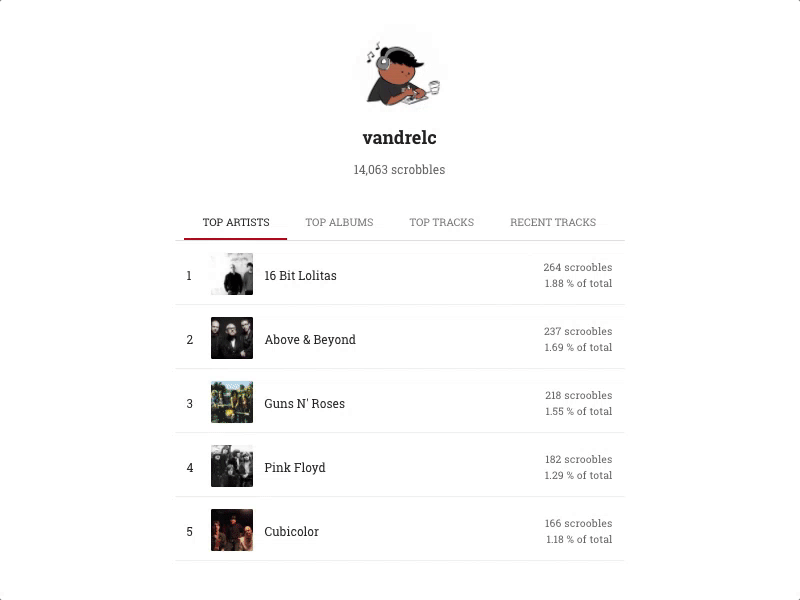 Description
Museek displays Last.fm user statistics including Top Artists, Top Albums, Top Tracks and Recent Tracks.
Tags
AngularJS
Last.fm
Material UI
Work
I have 4 years of experience building websites and applications. I'm currently working at UV, where I work with a variety of languages and frameworks including JavaScript, React, Redux, Gatsby, PHP and Laravel.
Drop me a message on LinkedIn to say hello or talk about work opportunities.
Interests
Most recent interests include Node.js, SSR, Next.js and GraphQL. I think about code organization more than I would like to admit and have been using principles of Atomic Design for component hierarchy, CSS-in-JS for styling and Storybook for visual testing.